Luigi Boccherini (1745-1805)
Performer:
Ensemble Symposium
Label: Brilliant Classic
Release: January 2016
BUY IT HERE
The collection of Luigi Boccherini string quartet is keep coming. This time the good news coming from Ensemble Symposium which done six string quartet as Op.26 or G 195 to 200. This is indeed the first recording, as the CD stated, and true I can't remember it had been recorded elsewhere. The website include some important notes on this:
About this release
Generally known as Boccherini's Op.26, this set of two-movement 'quartettini' was first published as Op.32, but confusion has continued down the years, which may be one reason why these delightful works have remained little-known and under-recorded; the only extant version on CD is of arrangements for keyboard and piano quartet, so this set offers a valuable first chance to acquaint oneself with Boccherini's original scoring.
more HERE
another notes:
The first recording for string quartet of the 6 Quartets Op.26 by Boccherini.
Boccherini was in the service of the Infante Don Luis, the brother of King Charles III of Spain. He was required to write 3 sets of 6 pieces every year, a duty which led to the rich and substantial oeuvre of chamber music by the Italian master.
The quartets are small scale, consisting of usually two movements, the first Allegro in sonata form followed by a Menuetto plus Trio. The style, "Classical Pure", is here and there infused by Spanish elements, such as certain syncopations suggesting Spanish dances, like the Fandango: high class entertainment!
Let's wait until this CD been released and will write review for it.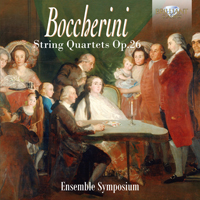 1. Quartet in B-Flat Major, G. 195: I. Allegro moderato
2. Quartet in B-Flat Major, G. 195: II. Minuetto con moto – Trio
3. Quartet in G Minor, G. 196: I. Larghetto
4. Quartet in G Minor, G. 196: II. Minuetto – Trio
5. Quartet in E-Flat Major, G. 197: I. Allegro vivace
6. Quartet in E-Flat Major, G. 197: II. Minuetto – Trio
7. Quartet in A Major, G. 198: I. Larghetto
8. Quartet in A Major, G. 198: II. Minuetto con moto – Trio
9. Quartet in F Major, G. 199: I. Allegretto
10. Quartet in F Major, G. 199: II. Minuetto allegro – Trio
11. Quartet in F Minor, G. 200: I. Andante appassionato ma non lento
12. Quartet in F Minor, G. 200: II. Minuetto – Trio
Ensemble Symposium
Igor Cantarelli violin
Gian Andrea Guerra violin
Simone Laghi viola
Gregorio Buti violoncello